Brazil v Switzerland Brazil vs Switzerland: Live blog, text commentary, line-ups, stream & TV channel Goal Last updated 1 year ago 19:15 6/17/18 FacebookTwitterRedditcopy Comments(3)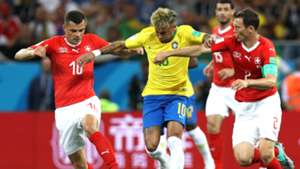 Buda Mendes Brazil v Switzerland World Cup Brazil Switzerland Powerade Brazil will look to get their World Cup tournament to a promising start with a win over Switzerland to make up for the humiliation against Germany 97 mins: FULL-TIME Brazil 1-1 Switzerland.96 mins: Neymar confuses everyone by crossing but Augusto is unable to volley home as Schar sticks his leg out to deny him from close range.94 mins: Brazil have another free-kick after Neymar is brought down. It is within shooting range… Article continues below Editors' Picks Out of his depth! Emery on borrowed time after another abysmal Arsenal display Diving, tactical fouls & the emerging war of words between Guardiola & Klopp Sorry, Cristiano! Pjanic is Juventus' most important player right now Arsenal would be selling their soul with Mourinho move 93 mins: Neymar, Firmino and Miranda have all missed chances in the last few seconds and they now have just two minutes to find their winner.92 mins: CHANCE – Miranda stays forward from a set piece and he lets fly with a volley but his strike takes a slight deflection and Switzerland survive.90 mins: SUPERB SAVE!!! Neymar's free-kick picks out Firmino and the Liverpool man looks destined to score but Sommer throws himself at his near post and claws the header away from goal.88 mins: CHANCE – Neymar waits until the last second before bursting into the box and his run is picked out but he can only guide his header straight down the throat of Sommer! 87 mins: Nervous moment for Sommer as he nearly reacts too slow to a Brazil free-kick. Neymar's delivery sailed over the head of everyone and Sommer nearly took his eye off the ball.87 mins: Lichtsteiner is clapped off as Lang enters the game. Just a few minutes for him to settle in and help his team hold on to this 1-1 draw.86 mins: Lichtsteiner has gone down with cramp and it looks as if his night is over.83 mins: Brazil seem to be running out of ideas when they have the ball, but that is mainly down to Switzerland's defending. Petkovic's men have stayed within their formation and defended superbly so far tonight.81 mins: 10 minutes to go and the game is there to be won. Brazil have strugged to kick on after impressing inside the first 25 minutes and Serbia will top the group if nobody can find a winner.80 mins: While he has not had many touches, Seferovic has worked himself into the ground for Switzerland. He is now handed a rest, with Embolo his replacement.79 mins: Firmino is stripped off and ready to go as he replaces Jesus.77 mins: Fernandinho decides to try and fire his team back into the lead but the less said about that shot the better.75 mins: It is a little bit end-to-end at present and that will please the neutrals in attendance. Tiredness could come into it and Brazil will feel they have the speed and freshness needed to break down the field and score.73 mins: Brazil scream for a penalty after Jesus goes down after competing with Akanji…they are praying for VAR but Ramos waves away any appeals.71 mins: After watching Behrami get booked, Petkovic has decided to take no chances and he sends on Zakaria.69 mins: CHANCE – Coutinho misses the chance to double his tally for the night but he fails to find the target. The playmaker brought the ball down in the box via his chest but he is only able to slice an effort wide of the far post.68 mins: Behrami has enjoyed some great battles with Neymar but he loses this one and commits a foul. Yellow card awarded and he will need to keep calm for the remainder of the game.67 mins: Renato Augusto enters the field of play and has just over 20 minutes to impress, Paulinho the man that makes way.66 mins: Both Fernandinho and Willian try their luck with shots from the edge of the box but there's a lack of control with both efforts and it remains 1-1.65 mins: Yellow card for Schar as he pulls Neymar's shirt and goes for a little ride before the referee finally pulls him up.63 mins: The game is starting to open up slightly and that should suit Brazil but they are yet to really find their top gear. Switzerland's midfield is working overtime and Selecao have yet to find a way to outmuscle them.60 mins: Casemiro shoots from the edge of the box but that is his last involvement tonight. He turns around and sees his number on the board and on comes Fernandinho.59 mins: Switzerland clear a number of crosses but they did not look settled at any stage there. Several defenders seemed to panic and rush their efforts and it just shows the pressure that is on everyone at the World Cup.58 mins: Coutinho has two shots blocked from the edge of the area before Neymar sees his effort deflected for a corner. The PSG man is limping after that after kicking the studs of another player.57 mins: Behrami is back out there and determined to carry on. That bravery and determination is just what Switzerland need if they are to hold on for a point.54 mins: Big worry here for Petkovic as Behrami goes down and he seems to be holding his left knee.52 mins: Brazil's resolve will now be tested in this Group E battle and they definitely have not been at their best tonight. They have shown glimpses of their potential but Switzerland have refused to give in and deserved their equaliser.50 mins: Shaqiri won the corner and grabs an assist thanks to his teasing delivery. Much better from the Potters winger.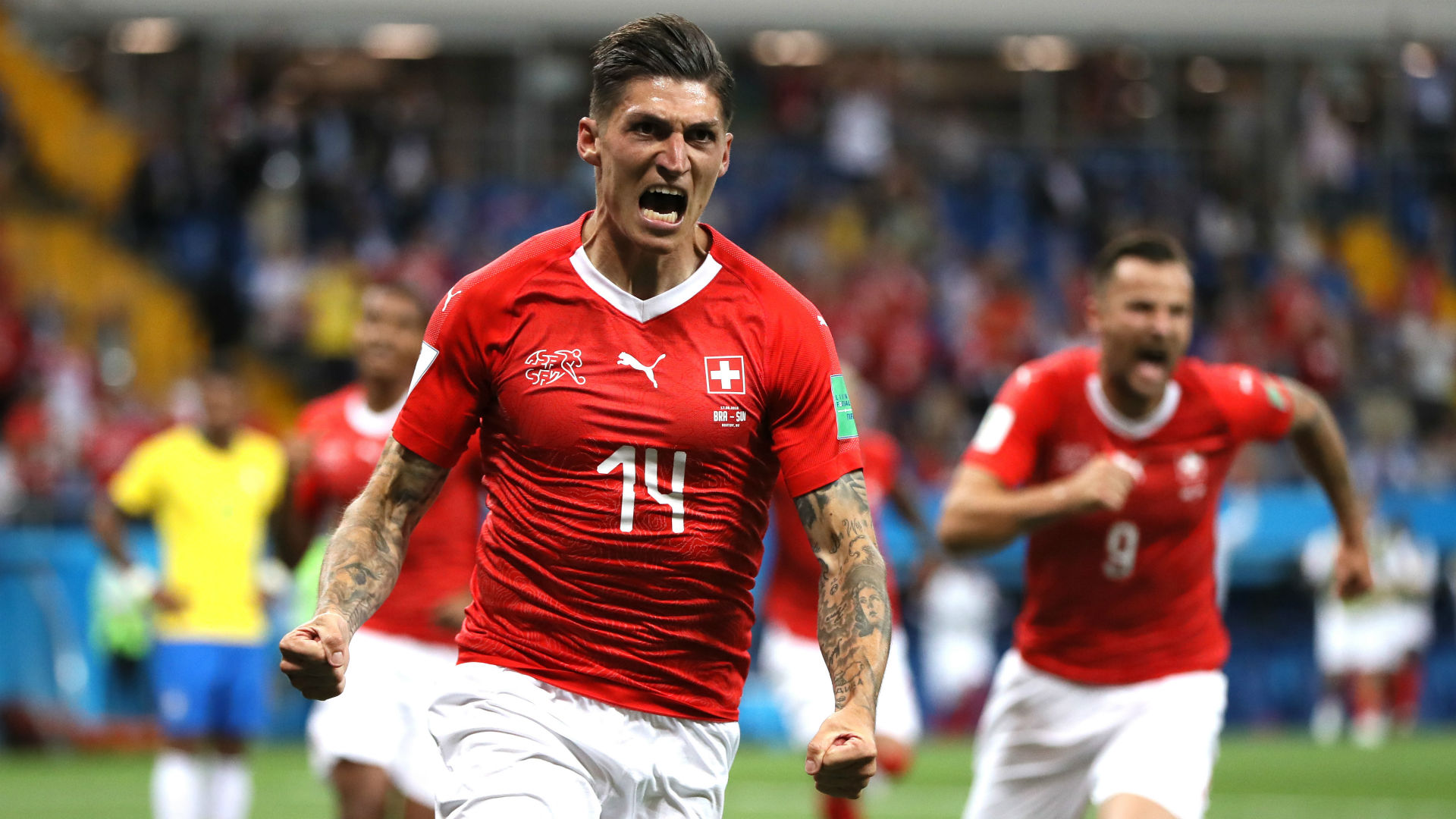 50 mins: GOAAALLLLLL Brazil 1-1 Switzerland! Shaqiri fires in a powerful cross and Brazil fall asleep inside the six-yard box. Zuber cannot believe his luck as he is left unmarked and he powers home a header from close range. Alisson left helpless and we now have a game on our hands.50 mins: The tempo has yet to pick up in Rostov but Switzerland do have a corner here to try and draw level.47 mins: Referee Ramos hands Casemiro a card after watching him chop down Dzemaili.47 mins: Dzemaili tries his luck from distance but he can only shoot wide of the target from a long way out.46 mins: We are back underway in Rostov as Brazil look to try and extend their 1-0 lead.Jesus and Willian have been too quiet in the first 45 minutes but Coutinho and Paulinho have caught the eye after some good work in midfield. Behrami has impressed for Petkovic's men but Switzerland need to bring Seferovic into the contest if they are to find a way back into the game.Brazil in the lead thanks to Coutinho's thunderbolt but they have been disappointing since going in front. For a minute or two it looked like they may kick on and grab a second or a third but Switzerland have dug in to stay in the game.48 mins: HALF-TIME – Brazil 1-0 Switzerland.47 mins: CHANCE – Tite's men win another corner and Neymar's cross is met by Silva but the PSG defender can only glance his header over the crossbar.45 mins: Two minutes of stoppage time given at the Rostov Arena. Coutinho's strike is the difference at the minute but there is room for improvement from both teams!43 mins: Shaqiri gets a rare chance to get forward and he floats a cross into the box but Casemiro climbs up and heads clear.41 mins: In surprising fashion, Switzerland are now starting to come more and more into the game. Behrami has got the better of Neymar in their last three battles and Brazil are not flying forward with the same swagger.40 mins: Silva is now down on the floor after Zuber's shot smashed into the side of his face. It was going wide but that is some brave defending all the same!37 mins: Brazil are just plodding on at the moment and their lead does not look under threat. Tite will no doubt be urging them to push for a second before the interval but they look full of confidence at present.34 mins: Switzerland are working really hard to try and get back into the game but they need to improve when on the ball. Brazil look so relaxed when in possession and this is impressive stuff from Tite's outfit.32 mins: Brazil win a corner but PSG forward Neymar is flagged offside as he tries to deliver another cross.31 mins: Lichtsteiner is the first man into the book after he concedes a free-kick after clipping Neymar.30 mins: Dzemaili is trying his best to drop deep and start a move but he is being tracked superbly by Casemiro, Paulinho and Coutinho.28 mins: Lichtsteiner puts Marcelo under pressure under a high ball and he wins a throw-in. He will have wanted more but the Arsenal defender will take confident after Marcelo seemed to struggle for a second or two.25 mins: Play stopped as Schar and Casemiro collide in mid-air and they both need some treatment.24 mins: Dzemaili wins a corner and this could be one area that Switzerland try to dominate…22 mins: Brazil finally open the scoring after some warning signs and it is now up to Switzerland to try and play their way back into the game. They were always going to be up against it but the floodgates may open if they are not careful.
20 mins: WHAT A GOAL!!!!!! Brazil 1-0 Switzerland – Coutinho lights up the Rostov Arena with a simply sensational shot. After collecting possession on the edge of the box, the former Liverpool man opened up his body and curled the ball into the far corner. Sommer had no chance and that was breathtaking!17 mins: Jesus beats the offside trap but his cross is intercepted by Sommer but Switzerland are starting to struggle in the middle of the park.16 mins: Neymar gets up off the floor and tries to float it over the wall but he smashes his drive into the Switzerland wall and it remains 0-0.14 mins: Neymar is down on the ground but he wins a free-kick after Behrami chops him down. The Swiss midfielder needs to watch himself now!13 mins: Brazil look like they have found their rhythm and Jesus is the latest man to try and set up a team-mate. The Manchester City striker floats a cross in for Willian but it is too strong and a goal kick is given.11 mins: HUGE CHANCE – Brazil pick their way through the Switzerland defence and that man Paulinho does make his way into the box. Neymar dances inside and finds him but Paulinho gets the ball caught under his feet and he somehow misses the bottom corner. That is a big let off for Petkovic's side.10 mins: This game has yet to burst into life and the same can be said of Neymar and Jesus who have barely had a kick.7 mins: Paulinho could be one to watch tonight and this summer, as he loves to make late runs in and around the penalty area. The Barcelona star has done just that but on that occasion he could only concede a goal kick.5 mins: Xhaka gets lucky there as he flies into a tackle and many expected him to get a yellow card. Brazil were still able to break forward but Willian's cross sailed across the face of goal.3 mins: CHANCE – Stoke man Shaqiri works his way to the edge of the box before lifting a low cross towards Dzemaili but the latter leans back as he shoots and he can only fire over the bar. Disappointing but that is a warning sign for Brazil.2 mins: We have had a slow start to this game with Brazil yet to get forward with any real purpose. Switzerland look very rigid and everyone is sticking to their position when Tite's men have the ball.1 min: Referee Cesar Ramos gets us underway here in Rostov-on-Don, with both teams wearing their traditional kits of yellow with blue and red with white.Here we go…2 mins until KO: The national anthems are done, kick off just moments away!10 mins until KO: The two teams have just finished their warm-ups at the Rostov Arena and we have just 10 minutes to wait before we can finally see what Brazil have to offer!15 mins until KO: Vladimir Petkovic decides to stick with his tried and trusted 4-2-3-1 formation, with Seferovic set to lead the line on his own. New Arsenal man Lichtsteiner leads an experienced side but Akanji is the exception. The 22-year-old wins just his eighth cap at the heart of defence.18 mins until KO: Brazil start with the impressive quartet of Neymar, Jesus, Willian and Coutinho, with Liverpool man Firmino forced to settle for a place on the bench.20 mins until KO: Switzerland SUBS: Josip Domic, Breel Embolo, Johan Djourou, Francois Moubandje, Denis Zakaria, Gelson Fernandes, Michael Lang, Yvon Mvogo, Remo Freuler, Mario Gavranovic, Nico Elvedi, Roman Burki.20 mins until KO: Switzerland Starting XI (4-3-2-1): Yann Sommer, Stephan Lichtsteiner (c), Fabian Schar, Manuel Akanji, Ricardo Rodriguez, Valon Behrami, Granit Xhaka, Xherdan Shaqiri, Blerim Dzemaili, Steven Zuber, Haris Seferovic.21 mins until KO: Brazil SUBS: Ederson, Douglas Costa, Geromel, Taison, Roberto Firmino, Cassio, Marquinhos, Renato Augusto, Fagner, Filipe Luis, Fernandinho.22 mins until KO: Brazil Starting XI (4-3-3): Alisson, Danilo, Thiago Silva, Miranda, Marcelo (c), Paulinho, Casemiro, Coutinho, Willian, Gabriel Jesus, Neymar.24 mins until KO: Tonight's TEAM NEWS coming up…26 mins until KO: Those expecting a shock might be waiting a while, with Selecao unbeaten in their last 12 World Cup group games. Brazil have also topped their group in every single World Cup since 1982 so Switzerland, Costa Rica and Serbia have their work cut out in the next few weeks.28 mins until KO: Bit of a rarity tonight as these two battle it out in a World Cup for the first time since 1950. Switzerland travelled to Brazil on that occasion with the game ending 2-2.29 mins until KO: We could have a cracker on our hands tonight as both teams enter the game in terrific form. Tite's men are unbeaten in 11 matches, while Switzerland have not tasted defeat since October 10 last year.30 mins until KO: Good evening and welcome to our live text coverage of the Group E match between Brazil and Switzerland from the 2018 World Cup in Russia. The South Americans are the favourites to win the competition this summer and they will be looking to make a statement after Germany's defeat earlier today.Squads & Team News Brazil are bolstered by the return of Neymar, who makes his first competitive start since February after injury; Philippe Coutinho, Willian, Paulinho and Gabriel Jesus are also included in the starting line-up.Tite's embarrassment of riches from which to choose means that there is no place on the pitch initially for Roberto Firmino; he is duly named on the bench for today's game.Brazil XI: Alisson, Miranda, Danilo, Thiago, Marcelo, Casemiro, Coutinho, Paulinho, Jesus, Neymar, Willian.Switzerland will have to make do without Wolfsburg striker Admir Mehmedi, who misses the World Cup due to injury, with Benfica's Haris Seferovic starting up front for Vladimir Petkovic's side.Two Premier League players make the starting line-up too; Stoke City's Xherdan Shaqiri and Arsenal's Granit Xhaka.Switzerland XI: Sommer, Lichtsteiner, Schar, Akanji, Rodriguez, Behrami, Xhaka, Shaqiri, Dzemaili, Zuber, Seferovic.TV Channel, Live Stream & How To Watch In the United States (US), the game can be watched live and on-demand with fuboTV (7-day free trial). New users can sign up for a free seven-day trial of the live sports streaming service, which can be accessed via iOS, Android, Chromecast, Amazon Fire TV, Roku and Apple TV as well as on a web browser. US TV channel Online stream FOX Sports 1 / Telemundo fubo TV (7-day free trial) In the United Kingdom (UK), the game can be watched live on TV on ITV   or streamed live online using the ITV Player. UK TV channel Online stream ITV ITV Player